Excelerated® Executive Development is an application suite that connects all aspects of talent development through an integrated platform. Manage your leadership, coaching and mentoring programs, connect individuals to colleagues and resources, and track outcomes and the return on investment of your initiatives.
Individuals receive their own workspace containing all development information, which can be shared with managers, mentors and HR business partners. Here, they can access information and receive technical assistance, mentoring and coaching.
Excelerated helps your leaders excel by clarifying expectations, assessing capabilities and knowledge gaps, and connecting them to the right people, tools and resources. With all information brought together in one location, you can streamline development initiatives, track individual progress and provide the clarity and support your current and future leaders need to take on their next challenge.
Program Management
You need to keep your fingers on the pulse of your professional development programs, and ensure all stakeholders are aligned. With Excelerated, you can standardize your programs and instantly see where participants are in their journey at any given time. Automate administrative tasks, assessments, evaluation and notifications to save valuable time and keep you, your executives and stakeholders informed and on target.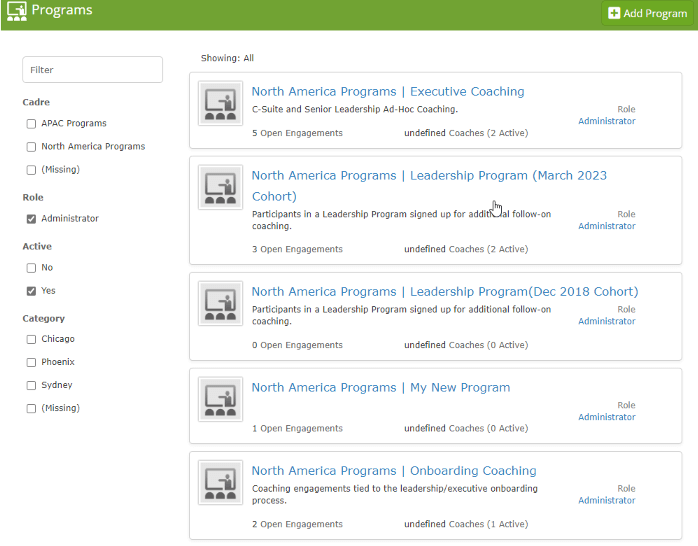 Programs
Centrally manage all your coaching, mentoring and development programs. Track coaching engagements and development plans, and communicate with participants, coaches, managers and administrators.
Engagements
Track multiple coaching engagements within each program, including goals, milestones and activities to monitor progress, and contracts and invoicing to manage expenses.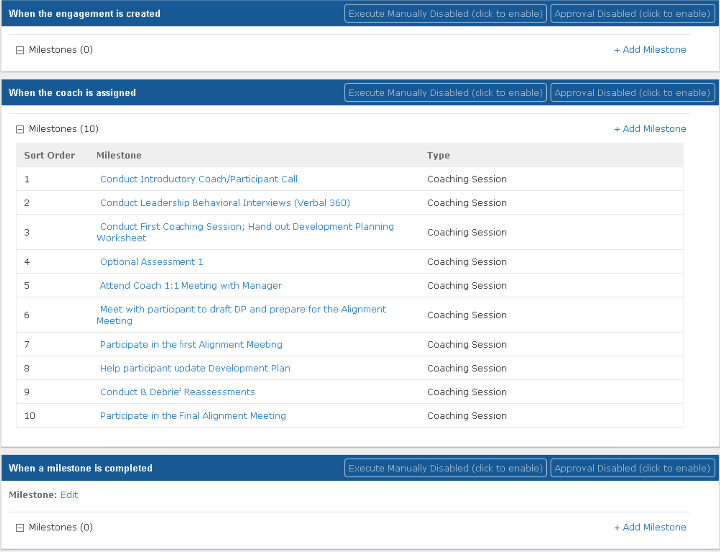 Templates
Automation templates allow you to define a series of milestones and activities that apply to each program participant. Assessments and activities can be triggered at key points in the process for 360 feedback, progress check-ins and program evaluations.
Assessments
Build your own program evaluations for participants, coaches, managers and HR using our library of questions, or create your own. You can also link to and launch any of our off-the-shelf assessments or your own custom enterprise 360.
Announcements
Post announcements to your program for participants, coaches and others so all your communications are easily accessible in one place.
Documents
A full-featured documents store allows you to create and share folders and documents with program members. Create confidential folders for administrators, read-only folders to distribute program details, and public folders for participants and coaches to spread information.
Resource Library
Organize and share resources for program participants. Link to websites, books and internal learning management system resources, and include development tips and activities for participants to add to development plans.
Contracting
Record key contract terms, including overall budget and hours assigned to each engagement. This information can be rolled up to the program level to view overall status and expenses related to your coaching activities.
Invoicing
Coaches can create invoices, assign activities to the invoice, add expenses and submit the invoice — all through Excelerated. This significantly reduces administrative time and ensures information accuracy. Features include partial activity billing, invoice approval process, and an integration API to post invoices to your finance system.
Development Planning
Excelerated provides a development plan where employees can maintain goals, activities, notes and documents. Plans can be created specifically for a coaching engagement or development program, or can be for the employee's long-term professional development.
The plan can be shared with coaches, mentors, program administrators or managers, depending on the situation.
Goals
Document and track goals, and link activities to create a detailed development plan for each objective. A range of goal templates allow you to customize your organization's development planning process.
Milestones
You can set key milestones for program engagements, which are then tracked by coaches, providing you an instant picture of engagement status across the entire program.
Activities and Scheduling
Coaches can track their meetings, phone calls, interviews and other work associated with the engagement. Administrators can schedule other activities before, during and after the engagement. Flexible security allows activities to be shared between participants, coaches and administrators.
Outcomes
Clarify and document the engagement's key outcomes.
Capabilities
Define competencies, derailers, skills and knowledge areas with our role profiler, and tag individual's development plans to these areas. This provides your organization with a real-time view of key development needs so you can target your resources to support them.
Collaboration
Employees can share their development plan with a mentor, coach or manager. They can distribute documents, schedule meetings, record notes and engage in discussions. Granular permissions allow sharing with specific roles.
Coaching and Mentoring
Create networks of coaches, mentors and experts and share searchable profiles of experience, skills and knowledge. Administrative features allow you to add private tags, notes and documents to profiles to enable you to effectively source and manage your network.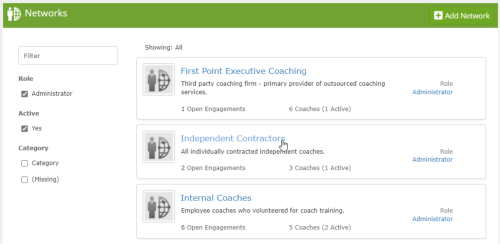 Networks
Organize coaches, mentors, consultants into networks for communications, management and sourcing onto development programs and coaching engagements.
Profiles
Users can create a profile of their background, skills and knowledge so others can search for specific expertise, and program administrators can source people onto coaching, mentoring programs and individual coaching engagements.
Organizations can create a framework of competencies through the Role Profiler, and employees can self-assess skill levels, exposure to knowledge areas and future interests.
Tags and Notes
Supplement profiles with private administrator-only tags and confidential notes. Seamlessly search public and private profile data, as well as administrative information to quickly find the people you need.
Coach Matching
You can run searches against the entire profile data to source coaches with the right experience for your coaching client. Profiles include basic demographics, education, work history, languages, coaching and instrument certifications, coaching methodologies and more.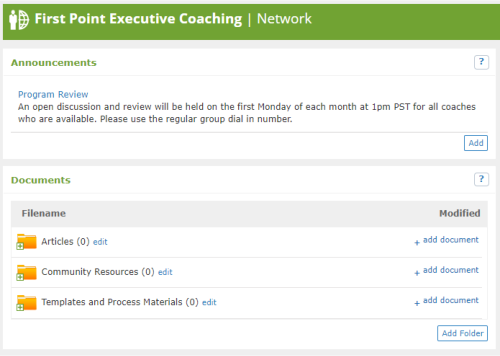 Collaboration
Build community in your networks. Post announcements to let them know what's going on, set up shared folders of resources and templates, and allow your community to share information across the network.
Role Profiler
Employees need to understand what behaviors are critical to their success in their current job and what areas they must develop so they are ready for their next obstacle. Using profiles, they can view and tag their development plans to individual challenges, competencies, skills and knowledge areas for both their current and future roles.
Role Profiles
Define what people require to be great in their role and perform at the highest level. It can be used to manage only competencies or all aspects of a best practice role profile including responsibilities, challenges, competencies, skills and knowledge.
Content Library
Comprehensive lists of benchmark job challenges and behavioral competencies are included with the system. Based on a role's specific challenges, the system will recommend the most important competencies required to overcome them.
Organizational Framework
Document, maintain and manage role profiles for all roles across your organization. Create a foundational framework for development efforts across the organization, and link to other talent processes such performance management and succession planning.
Dashboards & Reporting
You are lost without access to the real-time, bird's-eye status of everything going on in your coaching programs. Excelerated allows you to instantly see the most important information in one place, aggregate information about coaching programs, and drill down to any level of detail.
Key Reports
Excelerated includes easy-to-use reports. With a click you have answers to all your questions such as: How many engagements are active? What trends are being observed? What are the demographics of coaching programs?
Ad-Hoc Dashboards and Reports
If the built-in reports aren't what you need, you can quickly make your own with our ad-hoc reporting tool that gives you access to all your coaching data. Create tables, summaries and graphs, and add them to your own custom dashboards. Export reports in PDF, Excel or Word format.
Latest Updates
Data entered and updated in the system, along with status changes and other events are logged into a global updates history. Latest updates are displayed throughout the system, and the full history can be viewed to get a picture of all activity going on in the system.
Alerts
On-screen alerts keep you informed of tasks you need to complete, activities you need to review, and information you need to be aware of.
Digest Emails
Automated email alerts take the burden out of keeping people informed and reminded of key tasks.
For coaching administrators: Understand where coaches need to provide information, when engagements are behind schedule, and which activities need completing.
For coaches: Receive details on new assignments, upcoming meetings and pending activities.
For assessment administrators: Know when pending actions need to be completed and when additional follow-up may be required.
Platform
Excelerated is a highly-customizable, secure and multilingual platform that can be tailored to your organization's unique needs.
Branding
Build a portal with your own branding, complete with a custom URL. Style it according to your brand standards, including your logo, colors and fonts.
Customization
Excelerated is highly customizable. Programs, Engagements, Networks and Assessments have a configurable set of features and gadgets that can be read/write, read-only or hidden for each role (employee, coach/mentor, manager, and administrator).
Languages
Excelerated is a fully multilingual system. Languages can be enabled for each organization. Users can switch languages from their dashboard at any time. Emails are sent in the user's preferred language.
Security
We have been delivering software-as-a-service (SaaS) applications for Fortune 100 clients for over 15 years. We have proven scalability to hundreds of thousands of users, maintained a reliability over 99.99%, and managed data for highly regulated financial services and healthcare customers.
Mobile
Excelerated's responsive design automatically adapts to your browser's screen size and is supported on all current web browsers, including desktop, tablet and mobile phone.
Connect With Cambria
Reach out to a Cambria expert to learn more about how Excelerated can help you streamline executive development and create the next generation of leaders.